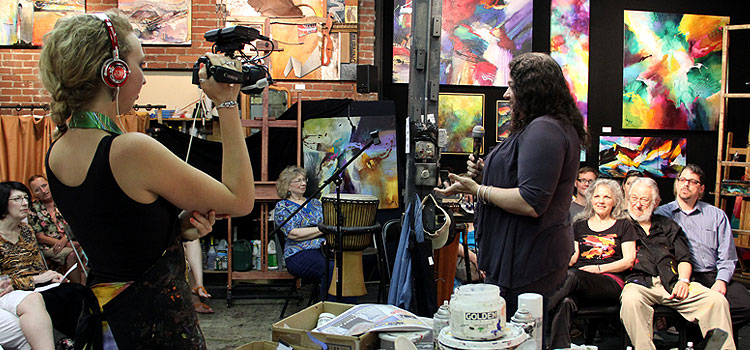 We were very honored to have Jonas' daughter, the painter and art professor Mira Gerard, join us for the June 2013 River Arts District Studio Stroll.  As a special bonus to the Saturday painting performance, she gave a fascinating talk about ongoing vitality of painting and other art forms. Reminiscing about growing up in an artistic family, surrounded by the artist's tools, she elaborated on and celebrated her father's open sharing of the artistic process through painting performances.
Her ideas centered on the transformative, primary, physical nature of painting and drew examples from 50,000 year old cave paintings to the works Jonas was creating there, in the moment.  Her talk added a fresh new dimension to an already exciting painting performance.
After seeing her works on display here in her 2012 show, River Of Forgetting, it was very enlightening to have a chance to experience another aspect of her artistic identity.