Mural is now installed at the CarePartners therapy pool.
If you witnessed the creation of the 8′ x 24′ explosion of color and form that is the Jonas Gerard mural titled 'Passionatley Alive,' then you contributed to the birth of the artwork itself. Jonas believes in letting go of all preconceived expectation when creating art. Similar to a medium channeling spirits from beyond, Jonas taps into the live energy felt in his performance space, allowing the creative source to be wide open and the paint brushes to do as they please.
During the River Arts District Fall Studio Stroll in Asheville, Jonas painted the abstract mural in his spontaneous style.  The public was invited to watch the expressive artist at work and there was a full house at Jonas' studio at Riverview Station.
[See a slideshow below]
Covering the surface area of this large scale mural was no small feat for a seventy five year old man and his three assistants. Driven by an eclectic mix of rhythmic music playing from the sound system, and channeling the focus and energy of the captive audience, Jonas engaged in his action painting techniques.
This new large scale mural, which is Jonas' second to date, was successfully installed at the CarePartners Health Services therapy pool in January, 2017.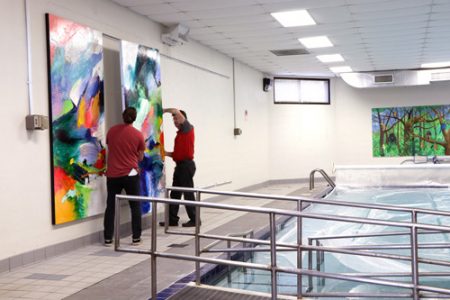 … →