Jonas will be holding his monthly Painting Performance at his Riverview Station gallery #144 on Saturday, August 13. Always free to attend.
"Trusting the intuition" ….a captivating experience. While rhythmic music plays in the background, Jonas becomes completely absorbed in expressing what is in his heart with a gestural painting style that appears almost as a spontaneously choreographed dance.  To the viewer, it may seem that the painting is done by the music itself while the artist is simply holding the brush.  However, the years of dedication to this trust allows an artistic integrity to flow through his work.
Riverview Station is a large historic brick building that houses over 60 artists and craftspeople. Located in the River Arts District (RAD) along the French Broad river, Riverview Station is only a five minute drive from downtown Asheville, North carolina.
Jonas Gerard Fine Art at Riverview Station 191 Lyman Street #144, Asheville NC 28801
For more information call the gallery at (828) 350-7711.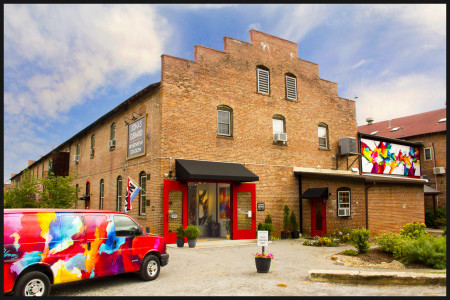 For more info on the Riverview Station Artist building, visit their website at: http://riverviewstation.com/
Save
Save
Save