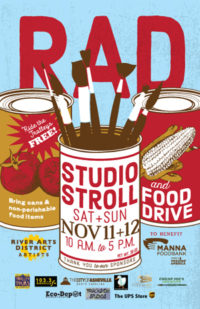 The Artists of Asheville's River Arts District open their doors to the Asheville Community for a full weekend in the 2017 Fall Studio Stroll, welcoming the public to see and collect amazing art in their studios and galleries. There is no better time to meet our artists and watch live demonstrations! There will be free trolley service all weekend to help visitors travel around the district without using their cars!
Jonas will be holding a Painting Performance featuring live music on Saturday, November 11, at 2:00 pm in his gallery and studio at Riverview Station.
Studio Stroll always holds special energy, bringing excitement to Jonas' Painting Performance. This time, local "ecstatic dance' percussion group, NataDas, will be playing live on stage while Jonas paints. Visitors are welcome to attend this free event and enjoy the creative dynamic between intuitive musicians and a process based expressionist painter. Before or after the performance, walk a short distance to 12 Bones Smoke House and The Wedge Brewery, for refreshments. Also visit a large assortment of artist and artisans in the large, historic, Riversview Station.
Jonas Gerard Fine Art at Riverview Station
191 Lyman Street, studio 144
Asheville, NC 28801
(828) 350-7711
Save
Save
Save
Save
Save
Save
Save
Save