Jonas Gerard's New Figurative Works Artfully Unveiled at The Asheville Loft
It was a festive night full of rhythm and color and inspiration. Painting, beats, dance, dialogue, food and wine.
Art lovers experienced an explosion of the senses during the premiere of Jonas Gerard's new body of work entitled The Naked Truth at The Asheville Loft on Saturday, June 27. Reminiscent of the New York studio lofts of the 60's and 70's, the third-floor space in historic downtown Asheville set the stage for an unforgettable evening.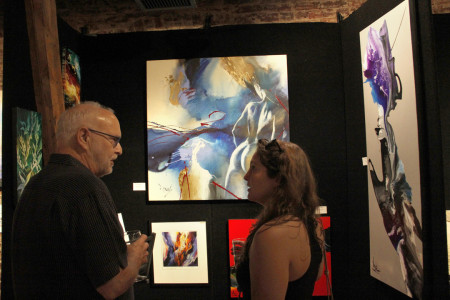 Displayed throughout the gallery, Jonas' new paintings vibrated with the same ecstatic color and energy of his abstracts, but these works, which feature nudes emerging from abstractions, explore and celebrate the beauty and strength of the female form. They also reveal much more—themes of love, courage and transformation imbue them with poignancy and a provocative complexity. Each work, a delicious treat. Seeing them all in one time and place was like indulging in an extravagant meal.
If the paintings weren't enough to satisfy an appetite for saturated hues and intriguing compositions, there was the live body painting collaboration between renowned body painter and makeup artist Ren Allen and Jonas. The model became a living canvas for the two artists who "dressed" her in playful designs and patterns while a captivated audience looked on.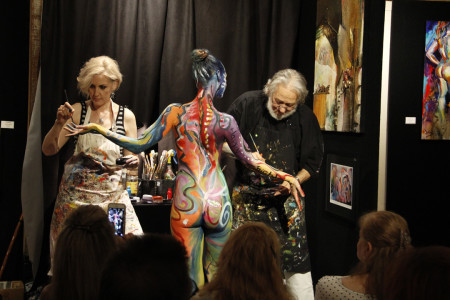 Underscoring the entire evening, stimulating world music from River Gueguerian and Free Planet Radio filled the room with a kinetic mood—a dynamic twist on dinner music. When not dancing, mingling, or taking in the kaleidoscope of art, guests enjoyed an array of vegetarian dishes created especially for the event by Laughing Seed,  drinks and sweets from Well-Bred Bakery & Café.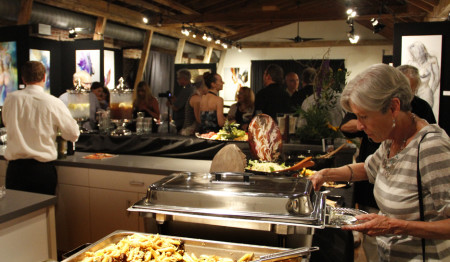 The architectural character of the venue, with its vaulted ceilings, exposed beams and brick, added yet another flavor to the premiere. David Lawter and Leigh Ann Singleton of The Asheville Loft have impeccably restored the open space for artists and musicians to share their works with the public in less traditional ways, favoring a more imaginative approach that encourages a closer relationship with artists who exhibit there.
With all the evening's eclectic elements, the preview of The Naked Truth was certainly not traditional, but then, would one really expect the same old thing from artist Jonas Gerard?